Sports Direct
Analysis and elevation of the in-store experience
Brief
Sports Direct came to us wanting to understand customer perception and opinion regarding their in-store experiences and how they can be improved for future executions.

The aim of the research was to ensure that any future in-store experiences are created with the consumer in mind, to promote higher usage, greater in-store traffic and footfall and ultimately more in-store sales as well as social shareability, membership sign up or engagement.
Insights
A successful retail environment puts customer experience and convenience at the heart. Physical spaces stand to benefit hugely by upping the ante with considered wayfinding, use of app-controlled concepts and digital elements – some omnichannel, others simply aiding the overall shopping experience. Sports Direct were keen to ensure that the experiences in their store were fitting for their new ambitious elevation strategy.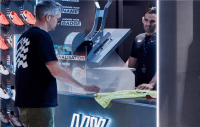 Establishing the global best practices and key principles for creating a experiential strategy which is engaging and exciting for consumers was our key starting point.
Methodology
Sector Immersion: Firstly, to determine expectations around in-store experiences overall a key starting point for this project was a round of secondary research to establish global best practice and key principles for create a experiential strategy which is engaging and exciting for consumers.

Bespoke Trend Tour: We visited best practice experiential stores and hospitality venues across London to gain inspiration and guide our overall strategy. We saw a variety of in-store experiences from VR and AR gamification to more simplistic executions such as gait analysis and shoe measuring services.

159 Quantitative Guided Surveys with customers: We ran surveys with consumers visiting the Oxford Street store, observing any engagement with the in-store experiences. From the survey it was clear that the current experiences needed to be revised and refreshed to maximise engagement.

19 Surveys with Staff: Along with the findings from the consumer surveys, the data collected from these staff surveys gave us a clear idea of overall perception towards the experiences.
Results
The research allowed us to gain first-hand insights into Sports Direct's current in-store experiences to understand how as a brand they could further enhance the consumer's retail journey to maximise the engagement in-store. The research helped to define an overall creative brief and bolstered the recommendations for future.