Speedo
The sports and fitness market is ever-changing and constantly moving. To really make a mark, you need more than big-name endorsements and a strong heritage. We worked with iconic swimwear brand Speedo to develop a strategy that showcased their innovation and allowed their elite and lifestyle credentials to shine through.
---
Thanks to a history stretching back to the beaches of Australia in 1910, the Speedo brand's swimwear heritage is unparalleled. But in a modern sports and fitness market increasingly influenced by technology and fashion, the business was losing touch with today's consumer.
We developed a new strategy that aimed to bring Speedo's innovation to the fore. Working across retail, print, digital and social, we helped establish the brand's authenticity in both elite and lifestyle markets. By clearly differentiating their product range, we've helped the business widen the appeal of its products – and sell more at a higher average selling price.
Swimming is just the start
Fitness campaigns
To broaden the appeal of the Speedo brand, we demonstrated the power of swimming to increase fitness for any sport. Working with professional road bicycle racer Richie Porte – whose gruelling Tour de France training regime includes swimming – we acted as lead creative agency on the campaign. As well as creating video and stills, we also developed strategic guidelines to ensure consistent execution across digital, in-store and social.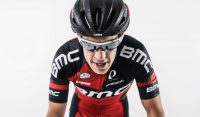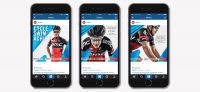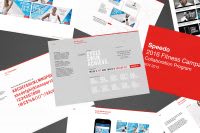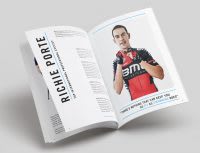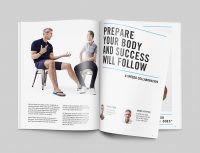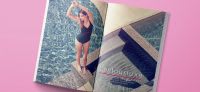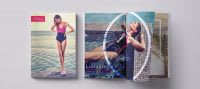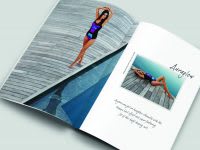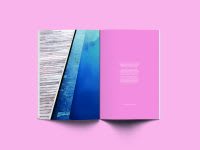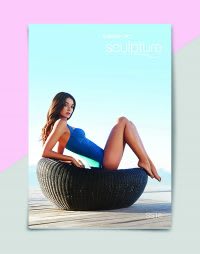 Bringing style to the poolside
Lifestyle campaigns
We've been responsible for the creative positioning of Speedo's female 'Sculpture' category since its launch in 2006 – working on photography and design across fixtures and windows in retail, plus communications. Through a carefully considered lifestyle aesthetic, our campaigns have helped to shift the perception of the product range into fashion territory –instead of focusing on its body shape enhancing technologies. And with lines selling out within hours of launch, the work has helped Speedo to drive conversions.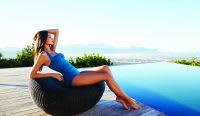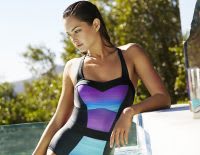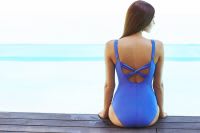 A high performance shoot
Elite campaigns
Launching Speedo's 'Fast Skin' range, our creative direction aimed to appeal to the demanding 'prosumer' market by bringing to life the products' performance credentials. Carrying out a three-day shoot on location in South Africa with the brand's Olympic athlete ambassadors, we captured an extensive library of stills and video – with all pre-production, filming, photography and post-production handled by our in-house team. The resulting work is now live across retail fixtures, merchandising, windows and communications.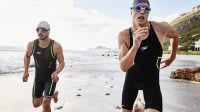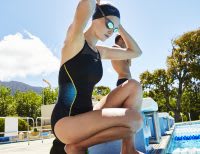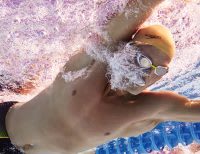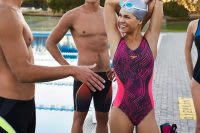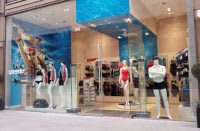 Delivering the Speedo store experience
Global retail design
For more than a decade, we've been developing and executing Speedo's retail communications system in the brand's owned, concession and shop-in-shop locations around the world. Working together, we've helped Speedo overcome the seasonal stocking challenges of their product lines – creating a flexible retail kit that combines a consistent brand identity with simple implementation.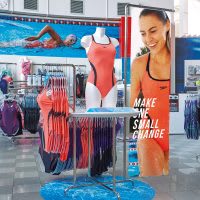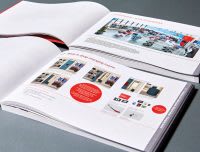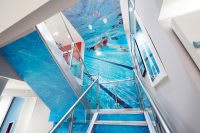 Our global responsibility covers everything from creating initial concepts through to tender management, sourcing, prototyping and coordination of rollout. Whether it's checking prototypes in China or installing window displays in flagship stores back in the UK, our team is trusted with ensuring Speedo's global retail fixtures meet the high standards the brand expects.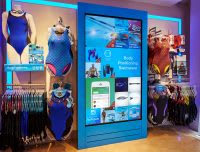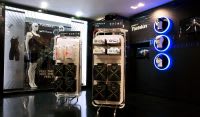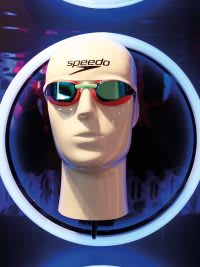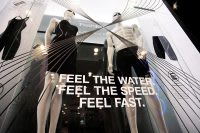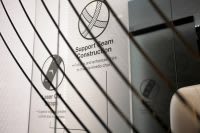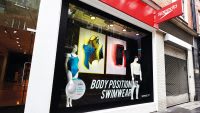 Making a splash on the high street
Retail window design
Our campaign displays for Speedo retail stores are built to be bold. For the brand's Body Positioning range, we used fluorescent acrylic panels and neon lighting to highlight each layer of the suit's technology. While our Biofuse display for Speedo's advanced goggles achieves its impact through simplicity – with illuminated heads modelling the products, and 3D lettering driving home campaign messages against striking imagery.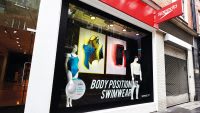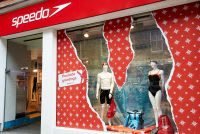 Putting the product front and centre
Premium retail window design
To launch Speedo's new Sculpture swimsuit, the team wanted to showcase every detail of the product's materials. We shot the range in-house, using pinpoint lighting to bring the suit to life in each photograph. A hugely successful launch saw the new range sell out in just a few days. But thanks to a special reversible design promoting another Speedo product line, the brand's stores didn't miss a beat when it came to maximising precious window space.