Proverb
Already running a successful, luxury skincare and spa brand aimed at women, our client team identified a gap in the market for a range of premium natural skincare for men. As experts in the health and beauty industry their proposition recognised that more than ever, male consumers are interested in natural, luxury products that are kind for both their skin and the environment.
With this idea, they approached us to establish a relevant name, a strong brand identity and market positioning as well as the product packaging for their new range.
Skincare that stands out from the crowd…
In a collaboration that saw the brand built from scratch, our designers and the team at Proverb worked to establish the over-arching message of truth, honesty and authenticity. The brand is built on only using the best, natural and organic ingredients with no hidden chemicals.
We wanted the brand values to resonate within the name so that it was immediately clear what this skincare brand stood for. The meaning of the word Proverb is described as 'a short statement of truth or a piece of advice.'
Their expertise and knowledge of skincare, beauty therapy, human science and nutrition meant that they could offer their customers the best advice on how to look after their skin and bodies both inside and out.
The brand icon itself is made up of all the individual characters of the word 'Proverb', its design is influenced by all the key elements of the products coming together to work perfectly as a collective whole. The colour palette was determined early on as masculine, clean and simple and the bold yellow colour gives Proverb the stand out they were looking for.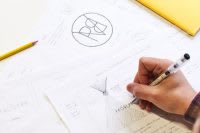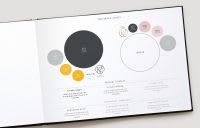 Get out what you put in
Launching with six individual products including two moisturisers, a serum, shaving balm, and a vitamin facial scrub – we needed to ensure it was clear the range was made with the male consumer in mind and had premium stand out on the shelf. A nutritional supplement completes the range, establishing the brand's "get out what you put in" mindset.
The packaging was designed with the wholeness of the identity marque and product in mind; the diagonal cross sections colliding and combining to meet in a perfect central point revealing the brand marque. The yellow flash became a consistent visual cue on both the boxed and bottled products that was ownable and recognisable for all Proverb products.