Franklin Templeton Investments
New habits in media consumption are bringing disruptive change to virtually every sector. And, for some long-established businesses, this can be a significant challenge. For Franklin Templeton Investments (FTI), an investment company steeped in heritage, connecting with today's audiences would require a full reconsideration of their brand.
---
Founded in 1947, FTI has grown into the world's premier investment management company – respected by financial advisors and investors alike. But for a modern global audience, the brand's comms didn't represent their status as a world-leading authority in the sector.
We developed a new approach to branding the business that elevated FTI's investment market commentaries across online, social and broadcast content. Alongside this, we created a set of guidelines for their in-house production studio and marketing team that helped shift customer perception of FTI from an investment organisation to a trusted global media brand.
A name you can trust
Brand strategy
FTI's reputation was built on expert insight, stability and proven portfolio growth – guided by the principles of Benjamin Franklin himself. Developing a new strategy for the brand, we needed to convey these messages and values across every element. From the movement of the logo and the wider graphic toolkit, to the sonic branding and even set design in video content. Our aim was to create a cohesive brand experience regardless of market, media channel or subject matter.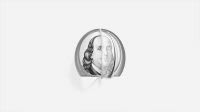 A modern take on a historic icon
Brand identity
How do you give a brand whose visual identity centres around US founding father Benjamin Franklin the dynamism and pace required in the digital world? To meet the challenge, we started with FTI's traditional tonal crest – seamlessly blending the logo with clean, sophisticated 3D motion graphics to introduce a contemporary edge for this classic marque.
Our rotating crest reveals Franklin's likeness through a series of concentric rotations, designed as a subtle nod to the brand's global reach. In contrast, the supporting elements of the graphic toolkit combine transparency with clean 2D lines anchored to the frame – representing FTI's long-trusted voice and stability respectively.
The transparency of graphic assets allowed comms to flex between the emotive and the rational, as well as appeal to different audiences and channels. In video executions, abstract stings bridge the gap between styles – providing textual background content that adds variety and boosts brand recognition. Above all, the new identity's visual language was based on conveying positive growth – with negative directional motion always avoided.