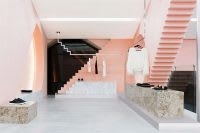 Trends for 2018: Retail Interiors
By Sarah Janosi, on 18th January 2018
The trends set to influence retail interiors across 2018
Feminine Brutalism
The retail world of 2017 saw many savvy brands harness the ultimate colour trend, Millennial pink. Store designs embraced this pantone to pack a visual punch and ultimately boost their Instagram game.
However, it wasn't simply the use of this popular colour which appeared in influx across the design world. The marriage of pink with brutalist forms and low material values such as raw concrete and plaster formed a beautiful juxtaposition of feminine brutality.
Subtle touches of femininity are visible through soft pink carpets, rich curtains, colour blocking and upholstery. These pretty pinks are then offset by cast concrete walls, fixtures and monolithic forms. Brass and copper rails, mirrors and delicate lighting also add extra moments of femininity across the store environment.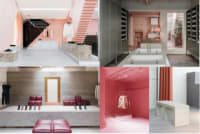 Gallery Architecture
It seems there is one thing retail designers seem to love as much, (if not more) than Millennial pink, and thats an arch. One of the most fundamental elements in architecture, it appears to be making a comeback.
Seamlessly integrating itself into many modern retail and hospitality projects in both blatant and more subtle ways. It looks as though this is a trend that we can expect to see more of as it emerges across the retail landscape.
This style of architectural feature when integrated within a store helps to create a gallery feel, which has proven popular with brands who are looking to elevate the premium aesthetic within their store.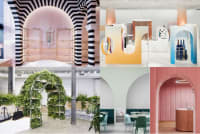 Refined Craftsmanship and Personalisation
As craftsmanship and handmade artistry continue to be a driving force behind design, brands are jumping on the 'maker experience' bandwagon as consumers seek out purchases that support local makers and add a level of personalisation.
Burberry hit the ground running with this trend back in 2016 with the introduction of their 'Makers House' pop-up which celebrated the collaboration of a household name with an independent maker. This partnership forged bonds through workshops by creating a community which consumers can connect with.
Since then, the trend for refined craftsmanship has continued to grow, with brands such as Jack&Jones and Levi's choosing to emphasise the quality of their product through in-store 'tailor' concepts. The Jack&Jones Jeans Intelligence Studio, Vienna consists of a denim bar, loaded with 18 different jean styles it is operated by a 'Denim Dealer' who provides customer with insight and the opportunity to customise their purchase.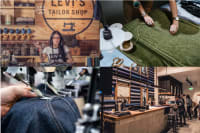 Experience Economy: Designing for Instagram
Creating experiential retail environments where shopping is more than a transaction has been a progressively growing business model over the past 10 years, and will continue to grow, as the retail world continues to face challenges due to increasing global spending.
Research into consumer behaviour has found that creating generous experiences for shoppers is a form of currency, and results in shareable moments. Thus, brands have amped up their retail-tainment and have begun incorporating design features in store with the sole intention to be sharable on social media. Whether through striking internal architecture, utilising current colour trends or lending store footprint to selfie opportunity areas, pop-ups and VR experiences.
The 'Experience Economy' may well be something more of a basic requirement in all stores of the future.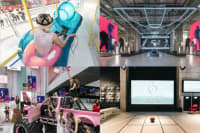 Designing for Serenity
As the global mindfulness trend continues to rise, brands have been tapping into this by incorporating design elements that reflect the natural environment, utilise natural and sustainable materials and create a sense of 'serenity' within their stores.
Driven by the desire to create an experience in-store that feels like an escape from the outside world, as consumers become more aware of their own consumption and its effects on their physical and emotional health. Intended to stimulate the sense without overwhelming, mindful design aims to relax and focus on those who visit the space.
Apple have aligned themselves with this trend, their stores all feature a clean white palette and greenery to make their stores feel more community focussed. The effects of this trend can be seen across market categories, from retail to hospitality design.