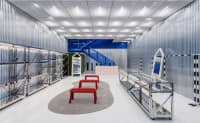 Off-White's flexible flagship
By Charlotte Hurd, on 28th August 2020
With 32% of global internet users saying they'll visit stores less frequently – is physical shopping still relevant?
Well, if Virgil Abloh has anything to do with it – yes.
The new 'flexible flagship' for Off White will be used to host a variety of cultural activity.
And although an events driven strategy is nothing new for retail it is the true flexibility at the core of this new space which differentiates.
Described by the team as a 'fulfilment centre' the store is stripped back to facilitate a range of activity from fashion shows to music events (very fitting for the multi-talented Abloh who is known for his work is music, fashion and design).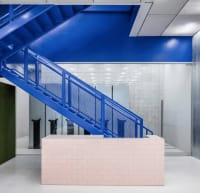 He says the purpose of store will 'be what the environment needs it to be rather than used for retail 24/7,"
"Who knows, by the time it opens I might turn it into like an Uber delivery of Off-White – that's the freedom and the fun."
The space can also transform to a café that extends out to the street – implementing key trends such as curbside retail and a more pedestrianised offer post Covid-19.
Lockdown has certainly accelerated consumers' affinity with digital commerce, raising their expectations for store spaces with omni-channel integration and it seems that this Off White flagship is one such future concept.