Issue
#044
Packaging without trace, Banksy's Baker Street stencils, Create Not Hate & fashion fields of gold
By Charlotte Hurd, on 20th July 2020
Welcome to your weekly dose of TOO x TOO – our round-up of the four most exciting, unusual or interesting things to drop in the last seven days, brought to you by the insights team here at The One Off.
Leaving no trace
As the use of disposable plastic increases in popularity, tons of brands have been trying to develop new forms of environmentally-friendly packaging.
Margate-based natural skincare brand Haeckels, for example just launched a new 100% compostable pot design which arrives in a natural package made of mushrooms that decomposes and contributes to soil quality.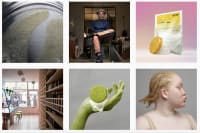 Banksy's Baker Street Stencils
Banksy has entered in on the mask debate in his own typically playful work: a series of stencils on the London Underground that feature his trademark rats struggling to come to terms with surgical masks.
In the video posted on his Instagram page, the artist is seen entering an underground carriage before stencilling rats, which are depicted as using masks as parachutes and dispensing hand sanitiser.
TFL have since confirmed that the work has been removed but would welcome Banksy to recreate the message in a 'suitable location'.
Create not hate…
The founder of Quiet Storm, Trevor Robinson has relaunched his mentorship and training scheme, Create Not Hate on the back of the Black Lives Matter movement.
Create Not Hate, first launched in 2007 initially set out to give inner-city kids a creative outlet, however it became much more: a mentorship scheme partnering with leaders from the ad world to give underrepresented young people a chance at a creative career.
"I first launched Create Not Hate in 2007 to open the eyes of black inner-city school kids to their creative potential," says Robinson. "13 years later, profound inequalities in society, and the issue of the lack of diverse talent in our industry, remain unresolved. The time is right to re-launch this initiative to promote positive change, and I invite people across the industry to get behind it."
The scheme will offer training in all aspects of the advertising creative process, from idea generation to production, and offer open briefs to inspire young creative people to submit ideas and work on real projects.
Fashion Fields of Gold
Simon Porte Jacquemus staged his Spring 2021 collection in a new social distant way.
One of the first designers to put on a runway show during the pandemic, models walked through barley fields whilst 100 guests, seated apart from one another, watched 55 models walk the runway through the shafts of wheat.
"Not long after my team was separated from each other, we were all in our homes feeling the desire to work, and a new vision of the collection emerged," he said in a statement. "We became a human chain, every step of the creative process executed with love."