Issue
#043
Welcome to your weekly dose of TOO x TOO – our round-up of the four most exciting, unusual or interesting […]
By Charlotte Hurd, on 7th July 2020
Welcome to your weekly dose of TOO x TOO – our round-up of the four most exciting, unusual or interesting things to drop in the last seven days, brought to you by the insights team here at The One Off.
Shangri-La in VR
Founded by those behind Glastonbury, Lost Horizon is a virtual exhibition of music and arts with a line-up of 150 artists and 250 artworks – including works from Anthony Burrill and Malcolm Garrett.
Just as can be found in the physical space of Shangri-La, Lost Horizon presents itself as a large outdoor art gallery, themed on the concept of human connection.
The Gas Tower will see 360 visuals accompanying the performances of a handful of DJ from the likes of Fatboy Slim, Carl Cox and Jamie Jones.
"Through Lost Horizon, we aim to bring together a global community with a shared passion in arts and culture, with the intern to inspire and spark action," Kate continues. "Art unites as and in these times, we need it more than ever to bring us closer together. I am thrilled to be collaborating with so many amazing artists from across the globe on this pioneering project."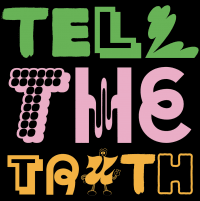 VOGUE Reset
Following the issue's theme of 'Reset' the August issue of Vogue does not star a model or actress but simply a picture of calm.
The 14 different covers available are shown in a 20-page story within the issue, titled 'All Across the Land'.
In his cover letter Enninful writes. "Like many of you who I've spoken to or corresponded with over these past months, I share a sense that, actually, "normal" is what got us to this point in the first place. If we are going to evolve, to a place of greater fairness and safety for our planet and its people, our future cannot look exactly like our past."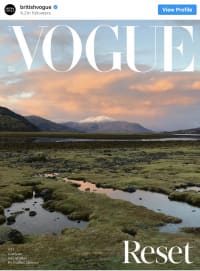 Earth Speakr
Olafur Eliasson, Danish-Icelandic artist has launched a new AR project called Earth Speakr that puts the next generation at the heart of the conversation on climate change.
Earth Speakr uses augmented reality to blend children's faces with objects or materials in their surroundings as they literally speak up on behalf of the environment.
"Earth Speakr is a collective artwork that invites kids to be artists," Eliasson explained in a statement. "The artwork is made up of their thoughts and visions, concerns and hopes. What they create can be playful and whimsical, serious or poetic. There is no right or wrong, and it is easy for everyone to take part. Earth Speakr invites kids to speak their hearts and minds and participate in shaping our world and the planet, today and in the future."
Lush's letterbox hand care
Covid-catalysed hand washing and sanitising is prompting brands to innovate with new care and cleansing products
UK eco-ethical beauty brand Lush is inspiring hand-focused self-care with its new Hand Care Kits, available exclusively online and designed to slip conveniently through consumers' letterboxes. The three kits include a range of soaps, hand creams and serums in each pack.