Issue
#041
#GoGreenGrenfell, World Refugee Day, Glastonbury 50th Anniversary & Fashion in the wild
By Laura Galdi, on 22nd June 2020
Welcome to your weekly dose of TOO x TOO – our round-up of the four most exciting, unusual or interesting things to drop in the last seven days, brought to you by the insights team here at The One Off.
#GoGreenGrenfell
This year marks the third anniversary of the Grenfell tower tragedy in London.
As the Grenfell United silent walk was cancelled, the organisation invited survivors, family members and the general public to commemorate the date with a campaign, #GoGreenGrenfell.
Powered by a social media call to action, Grenfell United invited anyone to visit a YouTube link on Sunday June 14th, to follow the directions on the screen and to share photos from their homes on social media. The message read
"Tonight is the third anniversary of the Grenfell Fire. Homes across the UK are going green for Grenfell. Your TV Screen is about to go green. To take part, switch off your lights, open your curtains and let the screen illuminate your room and shine through your window".
World Refugee Day
On Saturday 20th of June it was World Refugee Day and to celebrate it UNICEF UK launched a 90 seconds ad campaign, titled Better World.
Better World follows the story of Aboud Kaplo, a former Syrian refugee whose dream to become a concert violinist came true after he fled from his country.
The ad, aimed at challenging British people's perceptions of immigrants, follows a recent repositioning of UNICEF, wanting to depict children in need as "strong and powerful".
Codi Trigger, global campaign manager of integrated campaigns at Unicef, said
"While we want to convey the devastation young people can face, we also need to show the astounding potential children have and how much they can give to society and their local communities when provided with the right support."
Glastonbury 50th Anniversary
The upcoming weekend should have seen Glastonbury Festival take place in Somerset. However, like many events, the festival has been cancelled.
This year would have marked the 50th anniversary and across this week the media are looking to celebrate differently. The V&A for example, who acquired the Glasto archive in 2014 will now open it online to the public.
The archive covers design materials -such as posters, tickets, line-ups stubs- and photographs, to the fashion statements and dress codes that emerged from the event over time, and the stage design including its iconic Pyramid Stage.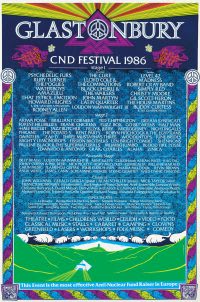 Fashion in the wild
After cities and fashion brands had to cancel their fashion week shows due to the pandemic restrictions, British fashion house Burberry announced that this September they will open their SS21 show to the public by making it online and accessible to all.
The date is saved for the 17th September, when Burberry in Nature will be broadcasted as an immersive digital experience in nature, showcasing the brand's work created since February of this year.
Riccardo Tisci, Burberry Chief Creative Officer said
"As humans, we have always had a deep affinity to nature. We have had to respect and rely upon its power for our very existence, whilst marvelling and revelling in its extraordinary beauty. Especially recently, we have all yearned to reconnect again and for this show, I wanted to celebrate these feelings by bringing our community together in a creative experience that takes place within the beautiful, natural landscape of Britain."