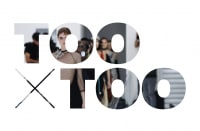 Issue
#037
Lidl help customers avoid queues, Crayola launch 'Colours of the World', Acne Studios begin kerbside retail & Gucci shake up the fashion calendar
By Charlotte Hurd, on 26th May 2020
Welcome to your weekly dose of TOO x TOO – our round-up of the four most exciting, unusual or interesting things to drop in the last seven days, brought to you by the insights team here at The One Off.
Lidl help customers to avoid long lines
This week, supermarket Lidl have launched a WhatsApp chatbot to help customers to find the best time to do their grocery shopping and avoid long lines. Customers text the bot with the day of the week and time they plan to visit the store.
Based on real-time data, the bot then lets them know if this is a typically busy, average or quiet time at the store.
Colours of the World
Crayola have announced their new crayons with different skin tones for children to 'accurately colour themselves into the world.' The 'Colours of the World' crayons are designed to represent over 40 different skin tones.
Crayola CEO Rich Wuerthele in the statement. "We want the new Colors of the World crayons to advance inclusion within creativity and impact how kids express themselves."
Acne Studios introduce kerbside shopping
With California's lockdown slowly starting to ease, some retailers have begun trialling kerbside collection to help customers who are looking to shop luxury. White-glove service in a more sanitised way will allow customers to order items to pick up kerbside.
Everyone – customers and Acne staff are required to wear a mask.
Gucci carves a new path for the fashion season
Gucci have announced in a series of Instagram posts that they will now be moving away from the 'worn-out' cruise, pre-fall, S/S and A/W roster towards twice-yearly season-less meetings.
"This crisis represents a fundamental test for us all," Creative Director Michele wrote. "Above all, we understand we went too far. Our reckless actions have burned the house we live in. We conceived of ourselves as separated from nature. We usurped nature, we dominated and wounded it."
The move by Gucci may encourage others to consider this is an opportunity to produce less product that is more creative and of higher quality.