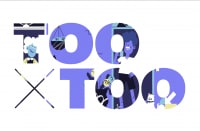 Issue
#036
Fashion Illustration makes a comeback, Combating #FakeNews, Spot the robot dog & Mental Health Awareness Week
By Charlotte Hurd, on 18th May 2020
Welcome to your weekly dose of TOO x TOO – our round-up of the four most exciting, unusual or interesting things to drop in the last seven days, brought to you by the insights team here at The One Off.
The Return of Fashion Illustration
The art of illustration has made a comeback across fashion media as socially distanced alternatives become essential. Vogue Italia, for example launched an illustration-only issue in January 2020, whilst American Vogue created illustrations of Billie Eilish for their March issue.
In addition to these more traditional forms of illustration, Vogue Taiwan used digitally rendered fashion images to create their 'Future in Transit' issue.
Vogue have shown that by using illustration and digital design they can continue to publish creative content, even in a time of lockdown.
#FakeNews
Twitter has confirmed that they will now include warning messages on tweets containing misleading information about Covid-19.
Twitter have taken this measure to limit the spread of potentially harmful information and misleading content around the coronavirus.
A link to a Twitter-curated page or external trusted source containing additional information will be added to the offending tweets. And in some cases, readers will be warned that the tweet conflicts with an expert opinion.
Spot the robot dog
The latest and slightly scary development to deal with social distancing comes from Singapore, where four-legged Spot the robot is being used to remind park visitors to keep a safe distance.
Spot will patrol the park, using cameras to estimate the numbers of visitors to the park. The contagious nature of the pandemic may encourage an acceleration in the adoption of machines of this nature. Spot the robot, for example, is also undergoing trials in hospitals to help with coronavirus treatments.
Mental Health Awareness Week
This week, Mental Health Awareness Week focuses on the power and potential of kindness.
The Mental Health Foundation felt that kindness is a very important consideration currently. Their research shows that protecting our mental health will be central to coping with and recovering from the coronavirus pandemic – with phycological and social impacts likely to outlast the physical symptoms of the virus.
'We have chosen kindness because of its singular ability to unlock our shared humanity. Kindness strengthens relationships, develops community and deepens solidarity. It is a cornerstone of our individual and collective mental health. Wisdom from every culture across history recognises that kindness is something that all human beings need to experience and practise to be fully alive. '
Across this week, new data will be revealed to show how many of us experience kindness in the UK, with tips, fundraising ideas and stories to help and inspire.