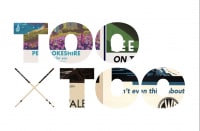 Issue
#034
Office sounds whilst you WFH, sustainable shoes, Wales new style tourism & HUN wine's unusual launch campaign
By Charlotte Hurd, on 4th May 2020
Welcome to your weekly dose of TOO x TOO – our round-up of the four most exciting, unusual or interesting things to drop in the last seven days, brought to you by the insights team here at The One Off.
Sanity Saving Office Sounds
With the majority of the population working from home, The Project Factory have taken the opportunity to create a mobile app which helps to bring the office atmosphere to you.
Sound Bored has been designed to amuse and comfort anyone who may be missing their colleagues.
The app's office background noises include those of coffee brewing, someone eating crisps, sighing, crumpling paper, typing and more.
With it's 80's-aesthetic, Sound Bored capitalises on silliness but also it links to something much deeper; how social distancing measures are affecting mental health.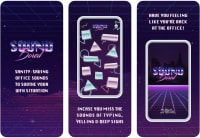 Sustainable Shoes
A few weeks ago, US-based sustainable shoe brand, Allbirds partnered with environmental consultancy Clean Agency to calculate the carbon footprint of every sneaker in the brand's collection.
The calculation which includes the environmental impact of production, use and end of life but excludes transport emissions, is displayed on the brand's website alongside information about how it measures up to other industry practices.
Sustainability is embedded into Allbird's DNA. With Covid-19 dominating, it would have been easy to ease up on sustainability. But instead, the brand is working even harder to meet its eco-credentials.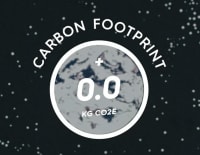 Wales – Don't even think about it…
Despite the current lockdown, the good weather has seen many flock to the UK's nature spots. Wales, in particular has seen an influx of day-trippers to its towns.
Local social media professional, Owen Williams has responded with his own retro-style travel posters which encourage people to 'See Wales, On the Internet.'
Welsh locals began sharing their own Posters on Twitter with the hashtag #Don'tVisitWalesChallenge. Examples range from 'Ogmore-By-Sea: Riddled with Crabs' and 'Peny Fan: It's Not Everest, Your Nan Could Manage It'. Wales' own tourism board even took part, tweeting 'Visit Wales. Later'.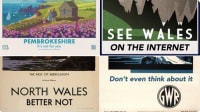 We're OK Hun
Wine in a can brand Hun had hoped to launch as the new exclusive wine of Mighty Hoopla, All Points East and British Summer Time.
However, with the UK on lockdown and all of the summer's festivals cancelled – the brand had to quickly change their plans and has instead launched a tongue-in-cheek outdoor campaign.
The brand make light of the questionable decision to launch an out-of-home campaign during lockdown with phrases such as: 'We were going to have our launch party here…but no one could make it.'
the campaign will appear across London alongside a digital campaign that will award free wine to people who have had birthdays, weddings and anniversaries during the lockdown.