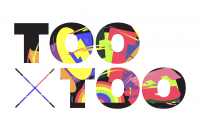 Issue
#031
Rainbows in response, John Lewis help the cause, Faace talk a modern language & new Woman's Aid campaign shows 'The Lockdown' in a new light
By Charlotte Hurd, on 14th April 2020
Welcome to your weekly dose of TOO x TOO – our round-up of the four most exciting, unusual or interesting things to drop in the last seven days, brought to you by the insights team here at The One Off.
Rainbows in Response
In response to the current Coronavirus pandemic pictures of rainbows have been springing up across cities and towns as a reminder that we are still united, even in isolation.
It's Nice That reached out to seven creatives, each coming from a different discipline and a different part of the world, and asked them to create their own image featuring a rainbow. The images which signify 'this storm will pass' are a celebration of diversity and creativity.
John Lewis, doing their bit…
The John Lewis Partnership is designing and installing a well-being area for medical staff and volunteers at the NHS Nightingale Hospital at Excel London.
It will be the only area of the facility designed to give all staff a space to relax and take time out from the challenging environment of treating patients with Covid-19.
Alongside this, JLP has partnered the British Medical Association to distribute care packages for front-line workers to the busiest hospitals across the UK. They will include a selection of non-clinical essentials, including toiletries, snacks, tea, coffee and socks, along with a well-being leaflet with information on a counselling service and guidance from the BMA.
A modern language
With many consumers now WFH, skincare regimes have seen a boost and in an increasingly saturated beauty market – how do consumers navigate to the right product for them?
British skincare start-up, Faace have adapted their messaging to be more relatable, such as redness post-exercise, acne caused by hormones and a lack of sleep.
Faace's social media posts nurture conversations between the customer and brand, encouraging the discovery and exploration of how specific lifestyle changes affect the skin :https://www.instagram.com/wearefaace/
'The Lockdown'
The film and poster campaign, 'The Lockdown' for Women's Aid shows quiet shots of desolate streets around London with the simple, chilling message that "domestic abusers are no longer walking among us".
The new ad, was made in just a week by a team of creatives, who independently got on their bikes and shot footage around their local area while on their once-daily exercise routine permitted by the government.
"It's humbling that so many talented people from adland saw the potential and rolled up their sleeves," Ringsell says. "It's incredibly galvanising when a group of creatives and makers come together, all behind the same idea with a passion to get such an important message out there. I tip my hat (or cycle helmet) and raise a really full glass of vino to you all! And not a flat white or Poke bowl consumed… just evening beers and virtual high fives."