Issue
#014
"MARKERAD" launches at IKEA, Adidas open London flagship, the countdown to Christmas begins and Harrods set to open first-ever beauty standalone.
By Charlotte Hurd, on 1st November 2019
Welcome to your Friday dose of TOO x TOO – our round up of the four most exciting, unusual or interesting things to drop in the last seven days, brought to you by the insights team here at The One Off.
"MARKERAD" – IKEA x Virgil Abloh
Today marks the launch of the MARKERAD collection, a range of 15 pieces which fuse functionality with fashion.
Pieces in the collection include a low pile rug in the form of an IKEA receipt, a 17-piece tool set and a pair of bags decorated with the word "SCULPTURE".
To mark the launch, IKEA's Wembley branch boasts a temporary logo upgrade, complete with quotation marks. And to prepare for demand, the branch has also installed the world's 'comfiest queue' for people clamouring to get their hands on the collector's items.
Anticipating huge demand and building hype for launch IKEA restricted access through a ticketing system, which sold out last month in under five minutes. Though you can already find MARKERAD pieces on eBay at massive markups…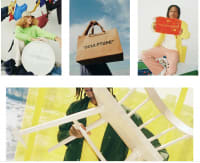 Adidas opens Oxford Street Flagship
The 26,900 sq ft store has digital engagement front of mind. The app allows shoppers to scan RFID-enable products for more info, request items to be brought to them by staff and purchase on the spot without the need to queue.
A sneaker cleaning and bra-fitting appointment service, a Running Lab and customisation hub all aim to make the shopping experience both personalised and memorable whilst a Hype Wall, (where sneakerheads can book in reminders for upcoming releases) and The Base offer product experiences, activations and interactive challenges.
The countdown to Christmas begins…
With the launch Christmas campaigns from Iceland, Very.co.uk and Argos the countdown to the festive season begins…
With Iceland harnessing the #MagicOfFrozen and Argos taking inspiration from the 80's, Aldi are sticking with tradition with the launch of their Christmas teaser…
The 10 second video which is available to view at leafyblinders.co.uk shows a gang of sprouts called the Leafy Blinders looking to take back Christmas from long standing star, Kevin the Carrot.
Aldi's Twitter account have also posted a tweet suggesting that carrot fans should be on alert but has yet to acknowledge the film.
Harrods set to open first-ever beauty standalone
Acknowledging the ever-growing beauty category, Harrods have announced plans to launch their first ever standalone unit…in Essex.
H Beauty will stock a range of premium and luxury brands, including Chanel, Dior and Huda Beauty, and there will be a big focus on services, such as facials and blowdries.
The site will also offer a 'coffee-to-cocktail' bar for customers to enjoy whilst they pamper themselves. However, the retailer's trademark green and gold branding is being replaced by a signature muted pink, to give the venture its own unique, distinct branding.