Issue
#007
Flannels new London store, Prada's Corner Shop Campsite, Pappa Johan's pop-up and a headline slot for designers
By Charlotte Hurd, on 6th September 2019
Welcome to your Friday dose of TOO x TOO – our round up of the four most exciting, unusual or interesting things to drop in the last seven days, brought to you by the insights team here at The One Off.
Flannels – A department store of dreams
Situated on Oxford Street, London, the concept space designed by Italian studio Pconp stocks Balmain to Burberry, Versace to Vetements and Gucci to Ganni.
In addition to ready-to-wear and accessories, shoppers will also find technology and homeware.
"With online, luxury shopping is no longer limited to the big cities, but we want to ensure all of our customers can enjoy the experience of choosing their pieces in a beautiful store environment, too," says Michael Murray, head of elevation at Sports Direct Group, the conglomerate which owns Flannels.
In celebration of the opening, the store will play host to the US-based sneaker store, Flight Club famous for its rare and one-of-a-kind designs.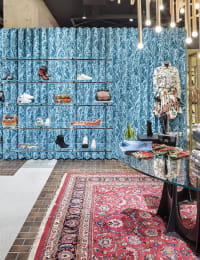 Grab your backpack for Prada's corner shop campsite
Selfridge's Corner Shop has become London's premiere experiential retail space. Following Gucci's millennial-pink Instagram haven is Prada, whose 'Prada Escape' takes 'world travellers' to its shoppable campsite.
In aid of the store, products have become more utilitarian, with the addition of cargo pockets, extra zips, roller buckles, straps and rings. There is also camping specific merch available, such as traveller's notebooks, reusable water bottles and camouflage wrapped chocolate bars.
The collection will be available in Selfridges until the end of September.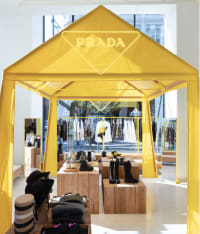 Papa John's try their hand at hygge
The pizza-delivery service, Papa John's is creating a 'hipster' Nordic pop-up serving cinnamon scrolls – a new addition to their menu.
'Pappa Johan's' open over the weekend will take inspiration from Skandi style, serving hot chocolates in a minimalistic environment.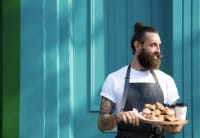 Your chance to headline Glastonbury: A call for all designers!
Until 11th October, any UK designers over the age of 18 has a chance to submit a design for The Guardian's canvas tote bags that will be handed out to the crowds at next year's Glastonbury Festival.
For the 50th anniversary the themes of 'hope' and 'bold, colourful and graphic styles' are essential on the line up.
From reporting the length and breadth of the festival to making sure campers can get their daily does of current affairs. the Guardian has been Glastonbury's media partner since 1997.
So, sharpen your pencil, don your wellies and get drawing!