Issue
#006
Puma's personalised flagship, Barbie's birthday, a Baked Bean Museum and a terrifying video from A$AP Rocky
By Charlotte Hurd, on 30th August 2019
Welcome to your Friday dose of TOO x TOO – our round up of the four most exciting, unusual or interesting things to drop in the last seven days, brought to you by the insights team here at The One Off.
Puma open their Fifth Avenue flagship
The two-floor store includes a customisation studio, F1 racing and football simulators, gaming experiences and a basketball zone alongside the retail offering.
Puma's immsersive 'Skill Cube' uses virtual technology to allow customers to receive one-on-one training from sportswear brand ambassadors. Lewis Hamilton and Romelu Lukaku are amongst athletes to host sessions.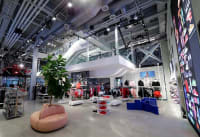 Barbie gets a Birthday makeover
To honour Barbie's 60th anniversary, and celebrate its diverse range of dolls, Vogue invited six leading young designers to dress the icon in their signature style.
Richard Malone, for example embraced eco-dyed lurid colours and unexpected textures formed from recycled ocean waster and repurposed dog beds whilst Charles Jeffrey Loverboy favours eclectic characters and electric atmosphere.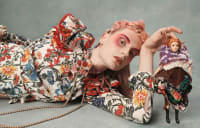 Heinz feel the love for Baked Beans
As part of the campaign to celebrate its 150th anniversary, Heinz chose to champion its 'staple' product in an immersive, bean themed pop-up.
The 'Heinz Beanz Muzeum' takes fans on a journey through Heinz history with historical ads, key information and brand packaging. A scented toaster tunnel leads to a space where kids can play in a bean ball pit and sample some unique dishes.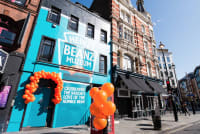 A$AP Rocky releases political Babushka Boi video
Employing photographer and director Nadia Lee Cohen to direct his recent comeback, Babushka Boi sees the artist in her element as she adds a dose of political strangeness to the latest music video.
Nodding towards A$AP Rocky's recent conflicts with the law, the short opens with a police van filled with anthropomorphised pigs, who are also incidentally, policemen. A derisive hint to the rapper's experiences, the film follows the animalistic brigade of law enforcers chasing Rocky and his entourage through Nadia's signature lens.